THANKSGIVING WEEKEND
"FORE" DAYS OF BIG SAVINGS!
Friday 11-26-21 thru Monday 11-29-21 
Premier Golf Membership
Golf Range Membership for One Year
Includes Unlimited Golf Course Rounds!    $589     (save $110)
 2022 Golf Course Membership
Regular & Senior  $129   *   Family  $199   *   Junior  $49
(save from $20 to $90 on memberships) 
Golfland Pass   $189
24 Large Bucket Punch Card   (save $40) 
Big George Pass   $229
24 Big George Bucket Punch Card   (save $50)


GIFT CARDS


~ for the holidays ~
Purchase a $50 gift card & Receive a $5 Bonus Gift Certificate!
Purchase a $100 gift card & Receive a $15 Bonus Gift Certificate!
Purchase a $250 gift card & Receive $40 of Bonus Gift Certificates!
Purchase a $500 gift card & Receive $85 of Bonus Gift Certificates!
To purchase, please click on the "Online Store" above. 
New Indoor Golf & Multi-Sport Simulator Suites
Our two new golf simulators with high-speed cameras and infrared light wave technology provide unmatched golf swing data and real-time ball feedback.  Play virtual golf at Championship Golf Courses such as Pebble Beach and TPC Sawgrass.
The simulators offer more than a golf course experience.  You can use the simulators for up to 13 different sports and activities such as soccer, football and basketball using real sports equipment.  Experience amazing, life-like game play delivering the ultimate sports entertainment experience. 
Rates:
$35 flat rate per hour Sunday 4pm through Friday 4pm
$40 flat rate per hour Friday 4pm thru Sunday 4pm 
You do not need to make a reservation but reserving is encouraged.  Please see link at top of page for reservations.
---
GOLF RANGE IS OPEN YEAR ROUND!
TOPTRACER IS FREE EVERY DAY!


The 36 Bays in our Golf Suites are equipped with Toptracer which is free at all times.   The bays are available on a first come first serve basis.
If there is a wait, visit our server station to provide your name and cell number to be placed on a waiting list.  You will receive a text message when your Bay is available.  Please note that you must respond then be present at the server station within 8 minutes after the time we sent the text message or you may have to repeat the process.
To avoid any waiting time, we recommend making a Golf Suite reservation.  Please note that all reservations must be made at least one day in advance.   Get ready for some incredible fun with advanced technology and service from our Signature Hole Grill & Bar!
Click on image below to see average estimated wait times/list – you will need to periodically refresh your page for an average estimate wait time.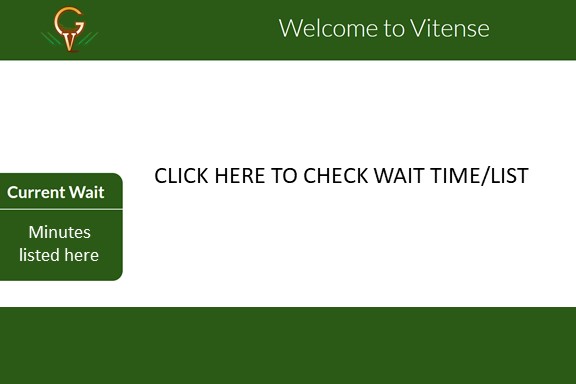 The Average Wait time is calculated as the average wait of people checked off the list in the last 30 minutes. So, if the wait time is trending upward or downward, the average time will lag behind because previous wait times are being considered in the calculation.
If we have many customers on the wait list, even if it says 35 minutes, it could really mean 60+. If the list had just started, there is no data to look at, so the wait may show a short time when in actuality it could be longer if Golfers just started. For example: Saturdays by 9:00am, we could be on a 1 hour wait because the bays are full and it takes approximately an hour to hit a bucket of balls. 36 bays available, person #37 potentially could wait an hour for someone to finish their bucket. The wait list has no previous data to go by, so the wait time may only show 10 minutes. We are exploring alternative ways/apps to estimate waits. Thank you for your patience.
Click HERE to make a Suite Reservation
TOPTRACER GRASS-BASED MOBILE SYSTEM IS FREE!
Continue the fun with Toptracer Mobile – available on our upper level grass and mat tee area!
My Practice – Store shot data over time to learn more about the characteristics of each club in your bag.
Precision – Get rewarded for length and accuracy in this game of skill.
Precision Series – Consistency and accuracy pay off big time in this test of golf prowess.
Swing Capture – Record and share videos of your swing, complete with shot stats and a trace.
Capture the Flag – Aim at physical targets on the range in order to collect flags in this 15-shot game.
Long Drive – Tee it high and let it fly in this game mode that's all about distance.
UPCOMING EVENTS
"Fore" Days of BIG Savings * Gift Cards for the Holidays
"Fore" Days of BIG Savings * Gift Cards for the Holidays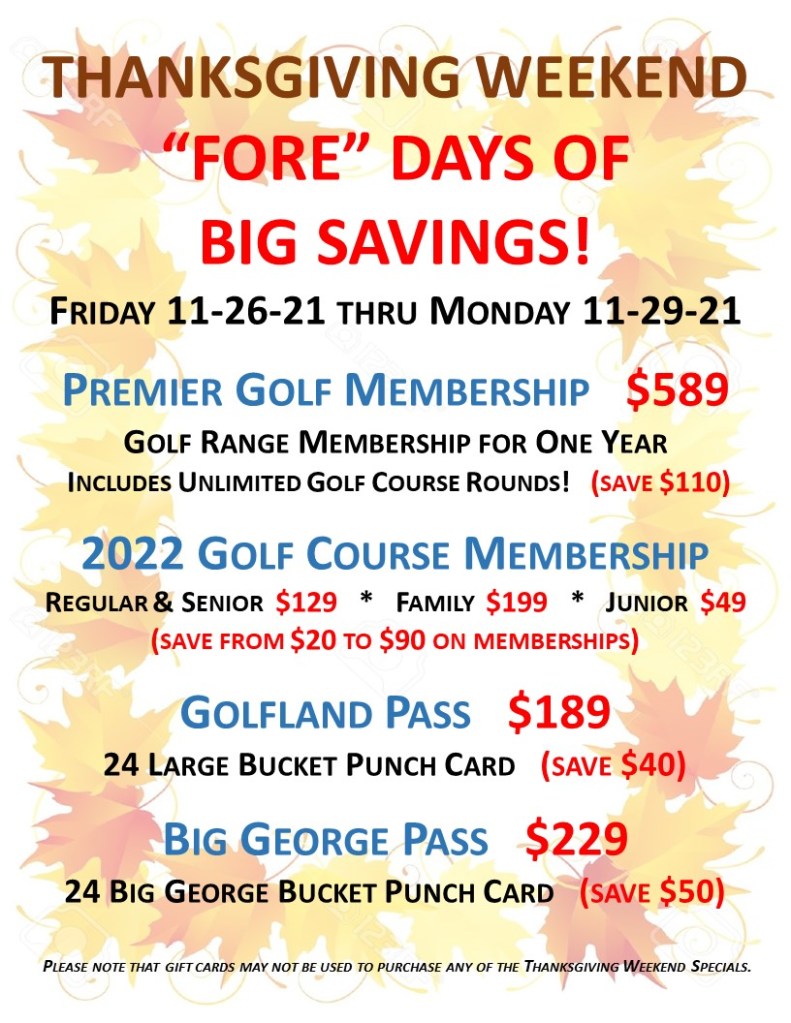 Updates on Activities and Leagues

Updates on Activities and Leagues
He-Man & Turn Up the Heat Leagues start the week of 11.29.21 (and last for 12 weeks). Mondays and Wednesdays from 6:00pm-8:00pm. Keep in mind our Golf Range and Suites will be full during these times with little or no available areas for walk-ins. 
Our OUTDOOR Miniature Golf Course and Par 3 Golf & FootGolf Course will remain open as long as there remains no snow on the ground!
Batting Cages, Water Wars, "The Rock" Climbing Wall, JumpShot, & AeroBall are all Closed for the Season
HOURS OF OPERATION
 Sunday   8:00am to 10:00pm
Monday thru Thursday  8:30am to 10:30pm
Friday 8:30am to 11:00pm
 Saturday   8:00am to 11:00pm