BRAND NEW AT VITENSE GOLFLAND:
2 Indoor Golf & Multi-Sport Simulator Suites
Our two new simulators with high-speed cameras and infrared light wave technology provide unmatched golf swing data and real-time ball feedback.  Play virtual golf at Championship Golf Courses such as Pebble Beach and TPC Sawgrass.
The simulators offer more than a golf course experience.  You can use the simulators for up to 13 different sports and activities such as soccer, football and basketball using real sports equipment.  Experience amazing, life-like game play delivering the ultimate sports entertainment experience.  
Rate: $25 per hour (not a per person charge) for up to 10 guests.
You do not need to make a reservation but reserving is encouraged.  Please see link at top of page for reservations.
OUTDOOR MINIATURE GOLF COURSES ARE OPEN WITH UNLIMITED PLAY!
9 HOLE PAR 3 GOLF COURSE IS OPEN WITH UNLIMITED PLAY!

9 HOLE FOOTGOLF COURSE IS OPEN WITH UNLIMITED PLAY!
GOLF RANGE IS OPEN YEAR ROUND!
TOPTRACER IS FREE EVERY DAY!
WE HAVE 80 TEE AREAS OPEN FOR YOU
The 36 Bays in our Golf Suites are available on a first come first serve basis. If there is a wait time for the 36 Bays of the Golf  Suites all equipped with free Toptracer, please note that you must be here to be placed on the wait list.  You will then receive a text message when your Bay is available.  You will have 8 minutes to respond to our text message and be present for your Bay or you will have to repeat the process.
To avoid any wait time, we recommend making a Golf Suite reservation.  Please note that all reservations must be made at least one day in advance.   Get ready for some incredible fun with advanced technology and service from our Signature Hole Grill & Bar!
Click on image below to see average estimated wait times/list – you will need to periodically refresh your page for an average estimate wait time.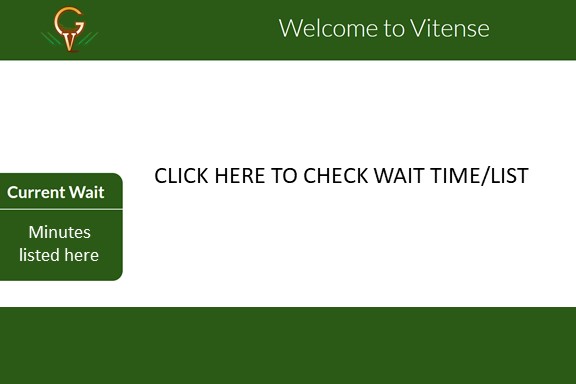 The Average Wait time is calculated as the average wait of people checked off the list in the last 30 minutes. So, if the wait time is trending upward or downward, the average time will lag behind because previous wait times are being considered in the calculation.
If we have many customers on the wait list, even if it says 35 minutes, it could really mean 60+. If the list had just started, there is no data to look at, so the wait may show a short time when in actuality it could be longer if Golfers just started. For example: Saturdays by 9:00am, we could be on a 1 hour wait because the bays are full and it takes approximately an hour to hit a bucket of balls. 36 bays available, person #37 potentially could wait an hour for someone to finish their bucket. The wait list has no previous data to go by, so the wait time may only show 10 minutes. We are exploring alternative ways/apps to estimate waits. Thank you for your patience.
Click HERE to make a Suite Reservation
Have safe INDOOR miniature golf fun.  Surfaces have been treated with Biodome to provide long-lasting protection.  Safe social distancing is maintained and if you prefer, indoor miniature golf tee-times (not required) may also be made.  If desired, please Click Here to make a tee-time.  
COVID-19 INFORMATION
We want you to have peace of mind when visiting Vitense Golfland. The health, safety, and happiness of all of our guests are always of utmost importance to the Vitense Golfland Team. At this time of heightened concern, we've seen our entire workforce embrace the facility-wide initiative to help put our guests and employees at ease with increased safety measures.
We are continually monitoring the situation and monitoring the recommendations from the CDC and local public health authorities. We have instituted procedures to train our employees on specific hygiene, cleaning and protective measures.
We want you to know that during this time, we are taking this very seriously and the health and wellness of our guests and associates is our utmost priority. To put your mind at ease, we want to share with you as much information as possible about the initiatives we put in place to ensure your safety.
We are also Biodome Protected!
Click image for more information.

Golf Range/Suites
Golf Range
We have reduced our outside sitting areas and tables to ensure and encourage 6 foot physical distancing
Range balls and range buckets are fully sanitized
Fully sanitized rental clubs are available for use to our guests although we recommend use of your own equipment
Miniature Golf
Miniature Golf
All putters and golf balls have been sanitized and procedures are in place to sanitize. 
We have initiated procedures to sanitize touch points on the course on a regular basis
In the event of having to wait to start your round of golf, we have created spacing that are outside and at least 6 feet apart
Par 3 Golf Course/ Foot Golf Course
Par 3 Golf Course/ Foot Golf Course
Online tee time reservations and payment available to allow touchless transactions. 
Reservations may have no more than 4 players in the group
Tee times are spaced out appropriately to avoid any grouping of players
We have modified the hole on the green to allow you to putt into the hole without removing the flag stick which allows for touchless play
Rental of clubs, pull carts or soccer balls are available and sanitized. We encourage guests to bring their own equipment.
Batting Cages
Batting Cages
We have fully cleaned and sanitized our batting cage area and they are CLOSED but should be opening soon for 2021.
We encourage our guests to use their own equipment as much as possible. We do require anyone using the batting cages to have a helmet on.
Helmets and bats will be available at our sanitation station in the building and will be fully sanitized after each use.
Procedures of regular cleaning and sanitizing of high touch areas have been initiated
All tokens will be sanitized between uses
Hand Sanitizer available
Climbing Wall, Jump Shot and Water Wars
Climbing Wall, JumpShot, Aeroball, and Water Wars
Our Climbing Wall, JumpShot, AeroBall, and Water Wars Activities are closed but should be open in later March.
Sanitizer Stations are available.
Leagues and Lessons
Leagues and Lessons
All lesson and league programs are open and available as scheduled!
UPCOMING EVENTS
Junior PGA League
Junior PGA League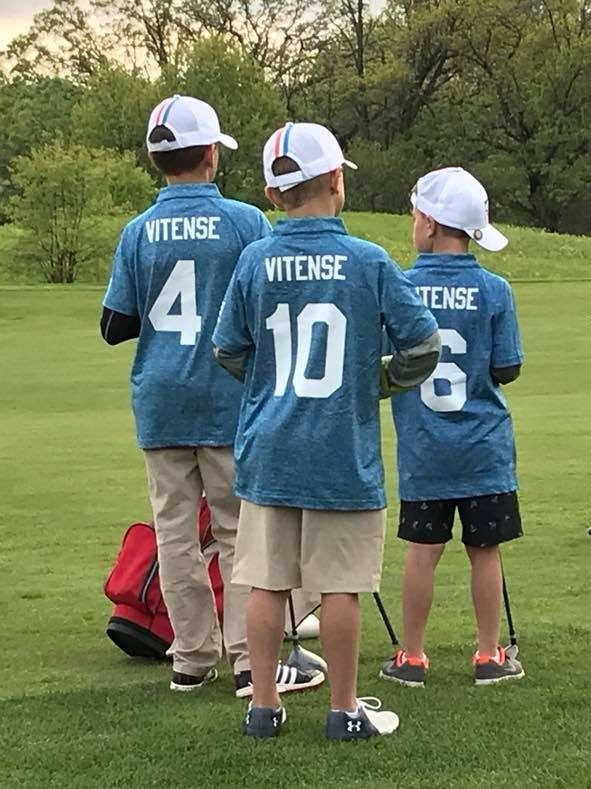 2021 PGA Junior League at Vitense Golfland
Registration Opens 2.1.21

Practice begins: TBA
5501 Schroeder Rd, Madison 53711
Captain: Ryan Ranguette
Phone: 608-695-9910
PGA Jr. League is changing the way golf is learned and played through its fun, team-oriented approach. Boys and girls, ages 7-13 of all skill levels learn and play the game with expert coaching and guidance from PGA/LPGA Professional Captains, wear numbered jerseys, and compete on teams with friends in a two-person scramble format that encourages mentor ship and builds confidence.
Lessons and Leagues

Lessons and Leagues
We have many Lessons and Leagues waiting for you to Register for the Spring and Summer!
OUTDOOR MINIATURE GOLF IS NOW OPEN WITH UNLIMITED PLAY!
Reservations are not required to play.  
GOLF RANGE IS OPEN YEAR ROUND!
TOPTRACER IS FREE EVERY DAY!
Mondays and Wednesdays are LEAGUE Nights from 6:00-8:00pm
Limited space available for walk-ins on Mondays and Wednesdays from 6pm – 8pm
Suite Reservations are recommended Fridays after 4pm and all day Saturdays and Sundays – Grab some friends and Reserve some fun!
Click on image to see current wait times/list – you will need to periodically refresh your page for accurate timing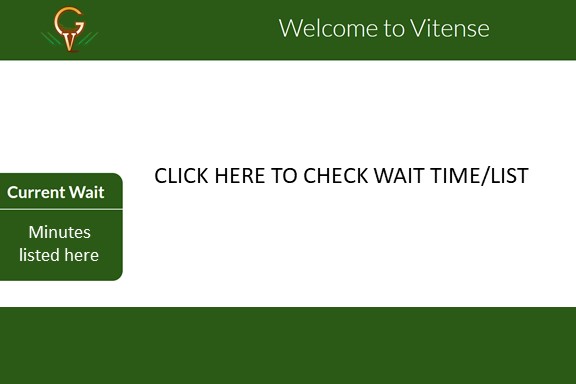 OUR GOLF & FOOTGOLF COURSES ARE OPEN!  
click here for online reservations or call 608-271-1411 ext. 0 to reserve your tee-time.
BATTING CAGES ARE OPEN – Please see the batting cages webpage for current hours.

CLIMBING WALL, AEROBALL, JUMPSHOT & WATER WARS will be opening in April and May.  Please see the specific webpages for updates.
Please see above links for procedures we have implemented to ensure a safe guest experience. 
HOURS OF OPERATION
Sunday   8:00am to 10:00pm
Monday thru Thursday   8:30am to 10:30pm
Friday & Saturday   8:00am to 11:00pm