About Us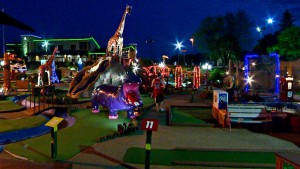 Vitense Golfland was founded in 1955 by George Vitense, a longstanding PGA professional, past president of the Wisconsin PGA and a member of the Madison Sports Hall of Fame. Although George Vitense died in 1988, his grandson, Joel Weitz, President & PGA Professional of Vitense Golfland and also former President of the Wisconsin PGA, continues the operation of the business today.
In 1955, George Vitense had a vision of developing a multifaceted, affordable, day & night family golf environment, in Madison. In its first few years of operation, Vitense Golfland already featured a large double deck golf range, two 18 hole miniature golf courses, and a 9 hole par 3 golf course.
Today, we have continued our family vision of high quality, affordable, family golf & sports related entertainment. The facility includes a Top 50 Rated Golf Range, powered by TopTracer, in America open all year, the first and only lit golf course in the State of Wisconsin, the #1 rated indoor and outdoor miniature golf courses in Wisconsin and in the top tier in the USA, 8 state of the art baseball and softball batting cages, Jump Shot & Aeroball – trampoline games, Water Wars – water balloon slingshot fun, "The Rock" – a 5 station 3 story climbing wall, Vitense Catering and The Signature Hole Grill & Bar.  All activities are available at night. In September, 2006 we opened our 20,000 square foot building which allows us to offer fun activities year round. In addition to the 18 hole indoor Madison Landmark miniature golf course, we also offer a full arcade with tickets for prize redemption. You may also drive remote control boats on our "Lake Mendota" and "Lake Monona". We also offer in-house catering, off-premises catering and full food & beverage service for breakfast, lunch and dinner from Vitense Catering & The Signature Hole Grill & Bar. We have a beautiful dining area with a 3 sided fireplace, four 70″ flat screen TVs and beautiful view of our facility.
In addition, Vitense Golfland offers year-round small & large scale event space options as well as a comprehensive catering menu & beverage services. Work with one of our event specialists to create your perfect social gathering, work party or large scale event.
Through Vitense Golf Academy, we offer high quality year round golf instruction from 6 PGA professionals.  We offer a wide variety of lessons and league opportunities. Lessons with view of full ball flight are available from our academy studio where we can open an overhead door, keep you warm with two 90,000 btu heaters, then close the overhead door and analyze your swing in a comfortable indoor environment. The academy studio also includes a putting green to work on your short game year round.
In 2014, the Golf Suites were added creating "the practice and entertainment experience". Enjoy a covered and heated golf range tee area, heated seating, 32″ (2 Bay Suite) or 40″ (3 Bay Suite) Televisions and full waitstaff service providing food & beverages (including beer, wine and cocktails) served directly to your Golf Suite. This area represents a special event area available year round! Use anytime OR make a reservation.
In 2017, we added TOPTRACER – the most sophisticated and fun golf range practice, ball tracking and gaming system.  
Vitense Golfland – Madison's Year Round Event & Recreation Destination!
Vitense Golfland is open year round, with many exciting activities. Our 20,000 square foot building offers the following:
Two privately access controlled community rooms are now available for birthday parties, company meetings/team building/outings and other group outings. Make your reservation now! These rooms may be used individually or combined for larger groups and are equipped with cable, internet and music access.
The Signature Hole Grill & Bar opened in June of 2016.  We have a complete bar with wine, full liquor selection and 8 different tap beers available. A comfortable seating area is available complete with fireplace, four 70″ flat screen TVs and a fantastic view of all activities. Outside of the seating area, is a deck and terrace to relax and enjoy the surroundings.  A diverse selection of entrees are available from the grill for breakfast, lunch and dinner.  Many tasty snack items and treats are also available.  For the ice cream lovers, get ready for Chocolate Shoppe ice cream!  Enjoy smoothies, slushies, and many other tasty beverages.
A NEW addition to The Signature Hole Grill & Bar – The TEE BOX. The Tee Box is perfect for ordering food and beverages while you wait for a bay on the Range, watch a sporting event, or linger a little longer! #eatplaygolf!
Wireless internet is available for FREE! Relax in the dining area, on the deck or on the terrace and catch up on personal and business matters.
An academy studio equipped with latest in digital video technology for Vitense Golf Academy allows us to provide instruction directly from the lobby of the building year round! Our experienced PGA Golf Professional staff is available for game improvement every month of the year!
The ramp to our lower level of the golf range is covered and protected for the winter. Combined with 90,000 btu heaters in our covered and heated golf range area, the golf range is open year round. Stay warm and see full ball flight for every swing every day!
In the spring of 2014- Covered and heated Golf Suites were added. Range servers provide full food and beverage service from our Signature Hole Grill & Bar for a unique golf range practice and entertainment experience. Each suite includes a 32″ (2 Bay Suite) or 40″ (3 Bay Suite) TV!
In the spring of 2017, our Golf Suites became powered by Toptracer! Each of our 18 Bays within our Golf Suites is equipped with Toptracer. Toptracer is a computerized gaming system which gives you accurate distance data on every shot and shows the shot trajectory. It also allows you to play a game or play a virtual round of golf at some world famous courses. Gather up a group of 4 or play alone. 
The indoor 18 hole "Madison" landmark miniature golf course is like no other and features many unique Madison landmarks and businesses. The centerpiece of the Madison miniature golf course is the Capitol building complete with Lakes Mendota and Monona where remote control boats can be driven around the lakes. This course is interactive, educational and extremely fun! On rainy days, hot days, cold days – it doesn't matter – you can play miniature golf year round in comfort!
Two INDOOR Golf & Multi-Sports Simulators were added in 2022. Our two Simulators use Full Swing's dual-tracking technology, combining high-speed cameras and infrared light wave technology providing unmatched golf swing data and real-time ball feedback. The simulators feature over 100 Championship Golf Courses. Play up to 13 of your favorite sports and games using real sports equipment and experience amazing, life-like game play delivering the ultimate sports entertainment experience.
EMPLOYMENT OPPORTUNITIES
If you are interested in employment, Vitense Golfland is a fun place to work with great benefits including free use of the facility. For employment, please contact Lauren Burton, HR Manager 608.271.1411
For further information about Vitense Golfland, please review our additional web pages or contact Joel Weitz, PGA Professional & President.